Collaborate on, manage, and approve estimates all within SCOPE. It's efficient and trackable.
Track SOW status and budgets in real time. Export data to Smartsheet, Excel or your internal systems to analyse data
Collaborate on, manage, and approve estimates all within SCOPE. It's efficient and trackable.
Scope collaboration at scale
Managing scopes in one tool gives everyone a shared view of the work being delivered and the progress being made. SCOPE is the only scoping platform designed for real time collaboration across disciplines, teams, markets and businesses. Working together for success.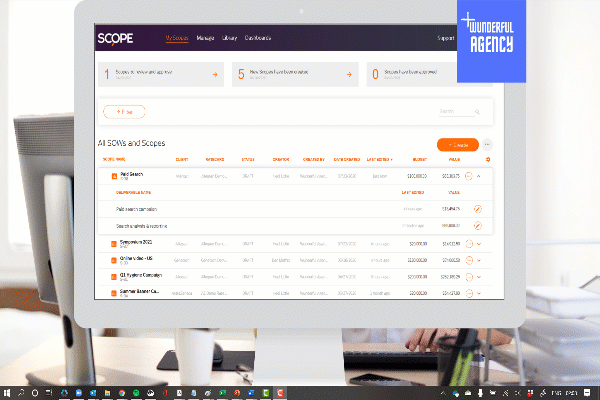 From one office to a network of businesses, SCOPE gives every group a single point of visibility and place where scopes are collaborated, tracked and analysed.
Smart decisions come when everyone speaks the same language. Transparency creates trust and opens the door to analysis. 
Trackable, versioned approval and change management. Visibility and analysis across markets, businesses and clients. 
Taxonomy of assets
A common language, consistent descriptions and a shared environment aligns teams, saves time and resources and ensures clarity and understanding.
Documentation that aligns with reality
Templated briefs and scopes ensure all required information and terms are included. And this means faster approval and compliance checks. 

SOW documents at speed
SOW documents are key in setting and aligning expectations; providing details around deliverables (what's in/excluded), staffing plans, price, timelines, service levels and payment terms.  They are an essential tool for any project – but are time consuming to write.  SCOPE provides a document gallery of approved output templates – so you can be sure that all the necessary information is included. Every time.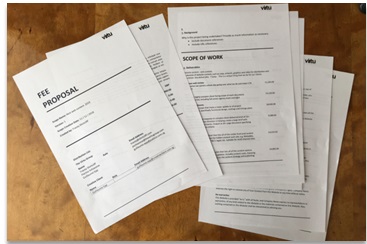 Comprehensive SOW database
Scopes, staffing plans and terms are all in one accessible place. Search, filter and customise your view.
Optimise budget
Track scope status, estimates, budgets and actuals – realtime. Trade deliverables in/out as things change and manage opportunities as they arise.
Track KPIs
See what deliverables and capabilities are being bought and where. Spot duplication and pricing inconsistencies. See where bottlenecks are.

Optimize budget
View scopes by team, region, brand, business, location and more. See where estimates exceed budgets and track budget vs. actual. With SCOPE's, 'Time Back In" feature, track percentage complete and actual time spent on tasks. Re-deploy unused time/budget.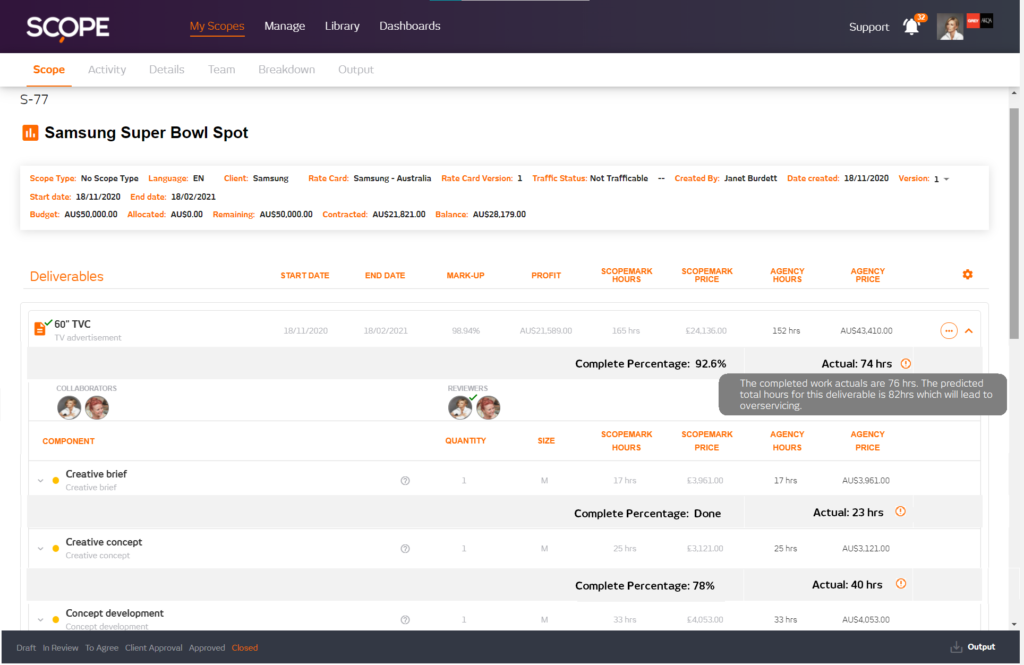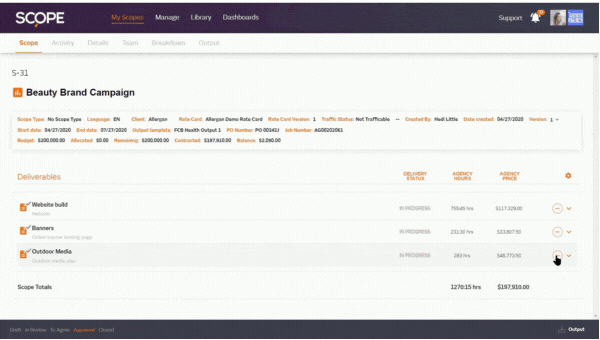 Manage changes
Maximise budget by tracking and trading deliverables in/out of a scope as things change. At a glance, see any variance from what was agreed to what's being delivered. Easily spot duplication and scoped work that is redundant.