Why is matching demand with capacity important?
Read our latest blog to find out
SCOPE COLLABORATION IN THE CLOUD
Some of the world's biggest agencies and advertisers are using SCOPE to better manage, price and track their scopes of work and budgets.
With all of your scopes of work in one place, teams can view, collaborate and approve deliverables, tactics and budgets from anywhere. There's a single, accessible source of truth.
Scope collaboration at scale
Managing scopes in one tool gives everyone a shared view of the work being delivered and the progress being made. SCOPE is the only scoping platform connecting agencies and advertisers across markets. The only tool designed for real time collaboration across disciplines, teams, markets and agencies. Working together for success.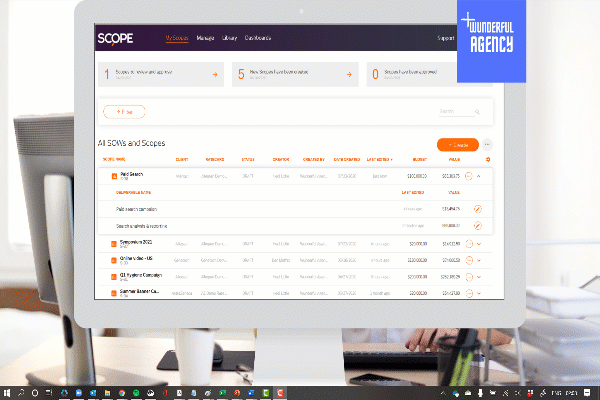 From one office to a global network of agencies and advertisers, SCOPE gives every group a single point of visibility and place where scopes are collaborated, tracked and analysed.
Smart decisions come when everyone speaks the same language. Transparency creates trust and opens the door to analysis. Out-of-the-box SCOPE gives you a defined language for marketing deliverables. You can adopt, amend or augment it – or create your own.  Find out more → 
SCOPE's benchmark data is unrivaled in depth. It consists of 000's of deliverables covering 23 creative disciplines and 0000's of component tasks (by size) that make up those deliverables. Role and rate benchmarks sit at this detailed level. Find out more →
Trackable, versioned approval and change management. Visibility and analysis across markets, agencies and clients.   Find out more →

Better spend decisions requires clarity about the marketing assets you buy or sell.
With SCOPE, you capture and categorise your inventory of agency deliverables – however complex. Benchmark and track this baseline of assets and tactics so you can analyse, adjust and do more of what works.
Spend on marketing as a percentage of US companies' overall budgets rose to 12.6% in May 2020, showing its importance in the Coronavirus pandemic.
*CMO Survey conducted by Duke University's Fuqua School of Business.
Taxonomy of assets
A common language, consistent descriptions and a shared environment aligns teams, saves time and resources and ensures clarity and understanding.
Documentation that aligns with reality
Templated briefs and scopes ensure all required information and terms are included. And this means faster approval and compliance checks. 
Visibility and oversight
With a client-agency network spanning 100+ relationships, having visibility of SOWs and budgets is essential. SCOPE gives you that oversight. 

A common taxonomy is the gateway to creating, sharing, retrieving and analysing deliverables and spend.
Everyone uses different terminology, even in one office. Aligning nomenclature with Scope saves time, reduces the need for reinvention, makes it easy to spot duplications and inconsistencies. It gives clarity across internal teams and advertiser- agency partnerships. And downstream, it ensures 'apples with apples' analysis and system interoperability.  Learn about SCOPE's features →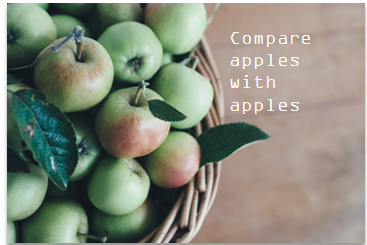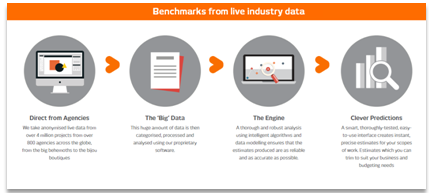 Agency fee and deliverable benchmarking provides a transparency that fuels efficient and profitable rate negotiations.
Out of the box, SCOPE comes with industry benchmarking data. Under license, SCOPE draws in and sorts a huge pool of anonymized job data. It equates to about 4 million projects from more than 800 agencies across the globe. Yes, it's real data from real jobs. Learn about deliverable-based pricing →

SOW documents at speed
SOW documents are key in setting and aligning expectations; providing details around deliverables (what's in/excluded), staffing plans, price, timelines, service levels and payment terms.  They are an essential tool for any project – but are time consuming to write.  SCOPE provides a document gallery of approved output templates – so you can be sure that all the necessary information is included. Every time.
Learn more about SCOPE for Advertisers →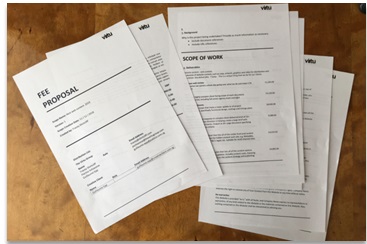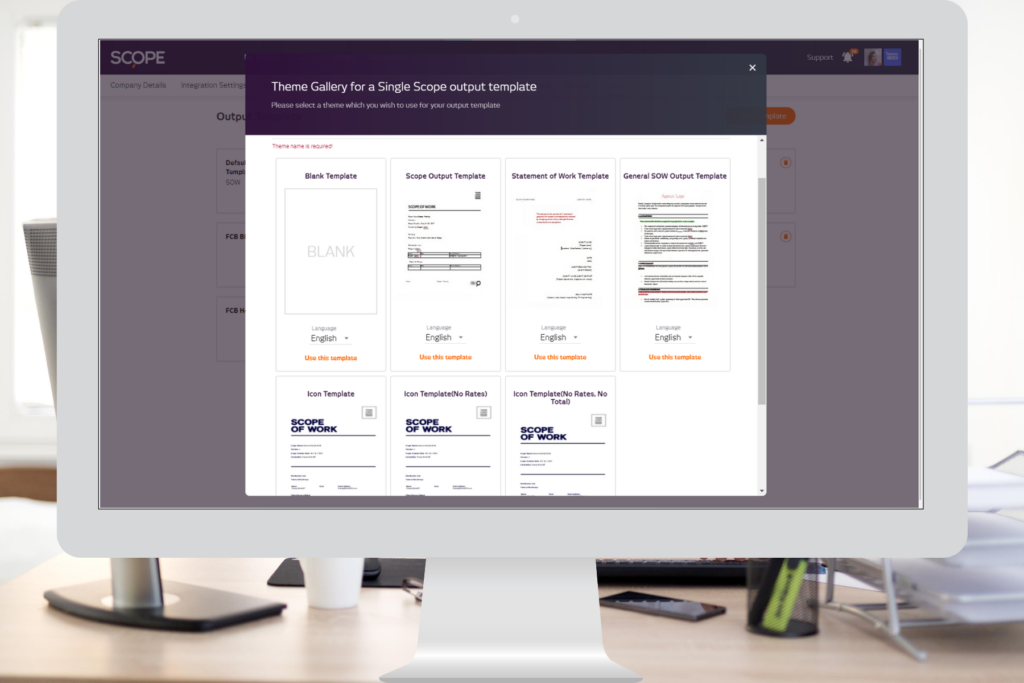 Export scopes
Scopes of work can be published directly to your client or agency – no email or printout required. Or they can be outputted to MS Word, MS Excel, .CSV, DocuSign or Smartsheet. They can even be parsed to your internal systems for the most efficient processing. Learn more about integrating SCOPE with your existing systems →

Multi-levelled visibility to work being scoped and progress being made.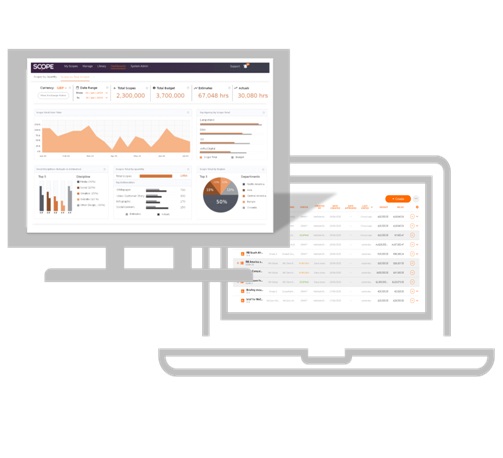 Comprehensive SOW database
Scopes, staffing plans and terms are all in one accessible place. Search, filter and customise your view.
Optimise budget
Track scope status, estimates, budgets and actuals – realtime. Trade deliverables in/out as things change and manage opportunities as they arise.
Track KPIs
See what deliverables and capabilities are being bought and where. Spot duplication and pricing inconsistencies. See where bottlenecks are.

Optimize budget
View scopes by team, region, brand, agency, location and more. See where estimates exceed budgets and track budget vs. actual. With SCOPE's, 'Time Back In" feature, track percentage complete and actual time spent on tasks. Re-deploy unused time/budget.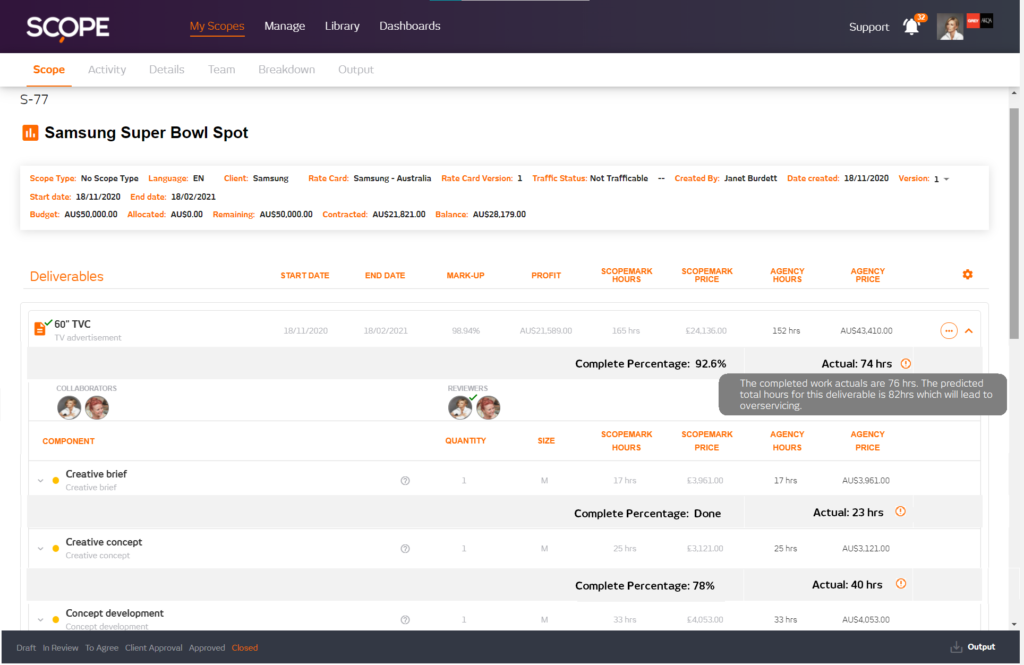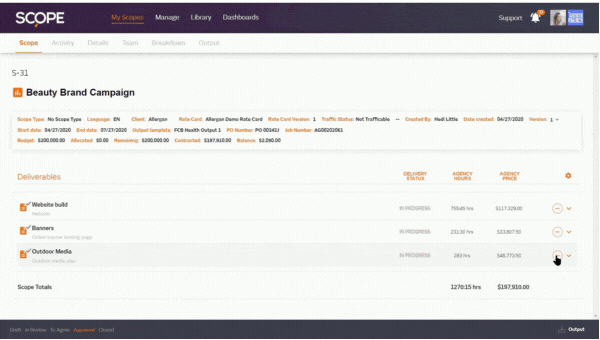 Manage changes
Maximise budget by tracking and trading deliverables in/out of a scope as things change. At a glance, see any variance from what was agreed to what's being delivered. Easily spot duplication and scoped work that is redundant.